PODLIFTER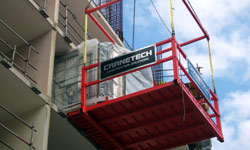 The all new PodLifter mobile loading platform is the latest innovation from CraneTech - leaders in innovative lifting solutions to the high rise construction industry.
Designed as an alternative to traditional cantilever platforms, the PodLifter can lift and load out large, heavy or awkward items such as Prefabricated Bathroom Pods and plant quickly and safely to any position on the building that can be reached by mobile or tower crane.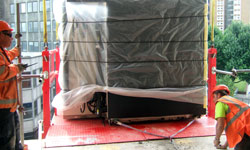 The ability for operatives to unload the PodLifter from the safety of the building without having to access the PodLifter makes it one of the safest methods for installing equipment at height available.
Call us for more information or click on a link below to see videos of PodLifter in use!
Podlifter Videos
PodLifter - London
PodLifter - Amsterdam